"There's a lot of automation that can happen that isn't a replacement of humans, but of mind-numbing behavior." ~ Stewart Butterfield.
Introduction:
In the constantly improving industry of Digital Marketing, finding the right tools can make all the difference. As a team with 7 years of experience, we've tried and tested countless marketing tools to refine our processes and deliver better results for our clients.
One tool that had a massive effect on our operations was A.L.A.N. (Artificial Lead Automation & Nurture). This game-changing platform helped us skyrocket our lead nurturing process, allowing us to focus on creating captivating content while leaving the follow-up to ALAN's advanced AI. In this blog post, we'll explore the benefits of ALAN, share a success story, and explain why we eventually moved on to a new system.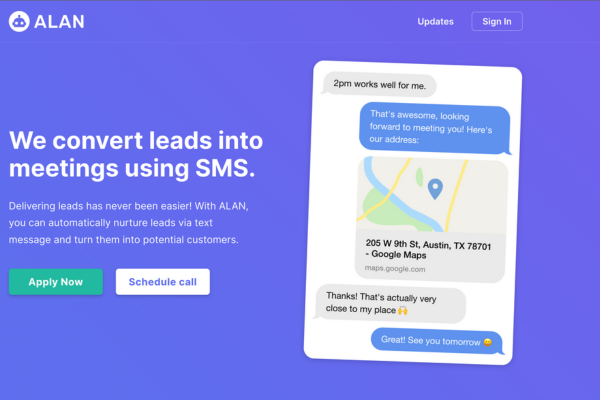 How ALAN Helped Our Clients and Team:
When we started using ALAN, we were instantly impressed by its ease of use and the peace of mind it brought our clients and team. ALAN's omnichannel platform combines the simplicity of Facebook Messenger with the high engagement rates of SMS, utilizing cutting-edge data science to customize messaging and increase the likelihood of prospects showing up for consultations. This allowed us to plug in just one system for all our leads and deliver outstanding results.
One of our most significant achievements with ALAN was for our client, Life Refined Chiropractic. We nurtured 1500 leads into over 750 phone consultations within a year, averaging 60 calls per month—a record-breaking performance. By automating the lead nurturing process, we could focus on generating leads and creating content while ALAN efficiently managed the rest.
Why We Moved On from ALAN:
Despite our initial success with ALAN, we eventually decided to bring most of the processes in-house using our GoHighLevel account. GoHighLevel introduced AI responses on par with ALAN's, enabling our team to handle the bots and maintain high performance. Alex Hormozi, the founder of ALAN, went on to sell the platform for eight figures, and everyone seemed happy with the outcome.
Tips for Those New to Marketing:
If you're new to marketing but know you can create content and drive leads, we highly recommend working with an automated lead follow-up system like ALAN or its competitors. If you join us at MediaTeam.App, we have improved these systems to deliver even better results.
Conclusion:
Our experience with ALAN was a transformative one, shaping the way we approached lead nurturing and follow-up. While we have since moved on to other platforms, the lessons we learned from ALAN have informed our ongoing strategy. As digital marketing continues to evolve, it's essential to stay on top of new tools and techniques that can take your business to the next level. Keep an eye on our blog as we share more insights and summaries of the marketing tools that have shaped our journey!